philodendron 'prince of orange' care
| | |
| --- | --- |
| | Once a week in summer; once every two weeks in winter |
| | Likes medium or bright, indirect sun |
| | Fertilize once every two weeks in the summer |
| | Toxic to pets - keep out of reach |
| | Strong air purifier |
philodendron 'prince of orange'
sustainably grown (Mps A)
100% recyclable packaging
4.8 / 5 based on 150+ reviews
4.8 / 5 based on 150+ reviews
sustainably grown (Mps A)
100% recyclable packaging
a.k.a. Prince of orange

A relatively rare but absolutely stunning plant. The Philodendron Prince of Orange, gets its name from its young leaves which are a beautiful neon yellow/orange when they come out. As the leaves grow older they become dark copper and finally turn green as they reach maturity. This Philodendron does not vine. Instead, it grows pretty compact and can reach heights of up to half a meter. It loves bright, indirect light and frequent watering (soil shouldn't be allowed to dry out completely). The plant should be rotated every once in a while as Philodendrons tend to lean and grow towards the light.
Size: Baby (XS), Small, Medium & Extra Large (see size guide)
Height: Baby (XS) ±10cm, Small ±20cm, Medium ±40cm & Extra Large ±50cm
Difficulty Level: Beginner
the perfect pots for your new green friends
philodendron 'prince of orange' care
| | |
| --- | --- |
| | Once a week in summer; once every two weeks in winter |
| | Likes medium or bright, indirect sun |
| | Fertilize once every two weeks in the summer |
| | Toxic to pets - keep out of reach |
| | Strong air purifier |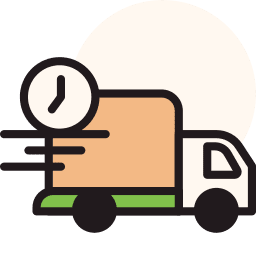 Plants are shipped out Monday to Wednesday and delivered for free (orders over €50) to Belgium, Germany, and the Netherlands.

Small business, big reviews. We're rated 4.8 out of 5 stars based on 150+ reviews from happy plant parents all over Europe.
We have a 14 days happiness guarantee! Just get in touch and we'll fix any issues (and answer any plant care questions).

All packaging is 100% recyclable, all plants are sustainably grown, all pots are made in Europe and the delivery is CO2 compensated.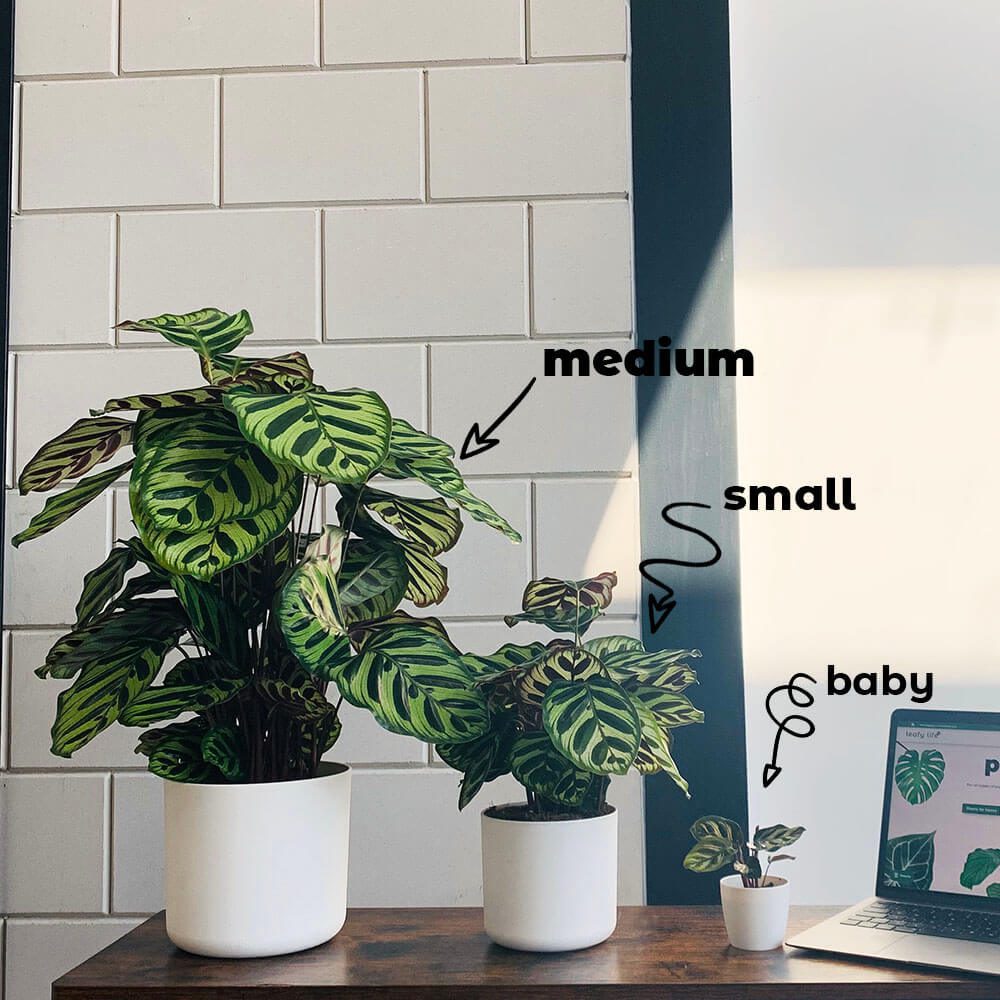 baby

small

medium

large

XL

Plants (D)

Plants (H)

Pots

5 - 7 cm

< 30 cm

7 cm

11 - 14 cm

< 50 cm

14 cm

15 to 18 cm

< 80 cm

18 cm

19 - 24 cm

< 150 cm

22 - 25 cm

> 25 cm

< 200 cm

26 - 30 cm
Plants (D)

Plants (H)

Pots

baby

small

medium

large

XL

5 - 7 cm

11 - 14 cm

15 - 18 cm

19 - 24 cm

> 25

< 30 cm

< 50 cm

< 80 cm

< 150 cm

< 200 cm

7 cm

14 cm

18 cm

22 - 25 cm

26 - 30 cm
The reason why we work with sizes instead of exact measurements is because we handpick our plants every week from the nursery. We work with small batches so that the plants you get are fresh from the grower. Because of this we depend on what is in stock for the season so the size tends to vary a bit.
Plants may vary a few centimeters in size but we always make sure that the pot fits nicely and that the plants are happy, healthy and pushing out new growth.
My love for plants and nature is the biggest reason why I have started Leafy Life. So, to stay commited to nature I want to make sure that the company's impact on the planet is as tiny as possible.
From the beginning, we commited to using only recyclable and/or recycled materials for our packaging.
At this moment, all of our plants are beautifully packaged in 100% recyclable and recycled materials. The paper we use for wrapping as well as the boxes themselves come from recycled cardboard.
Some things cannot be packaged in paper, such as glass and ceramics. For those we recycle and reuse materials we get from our suppliers. We do not introduce any virgin plastic into the supply chain.
In addition, the delivery of the plants is CO2 compensated. This means that trees are planted to offset any polution created by the delivery vehicles.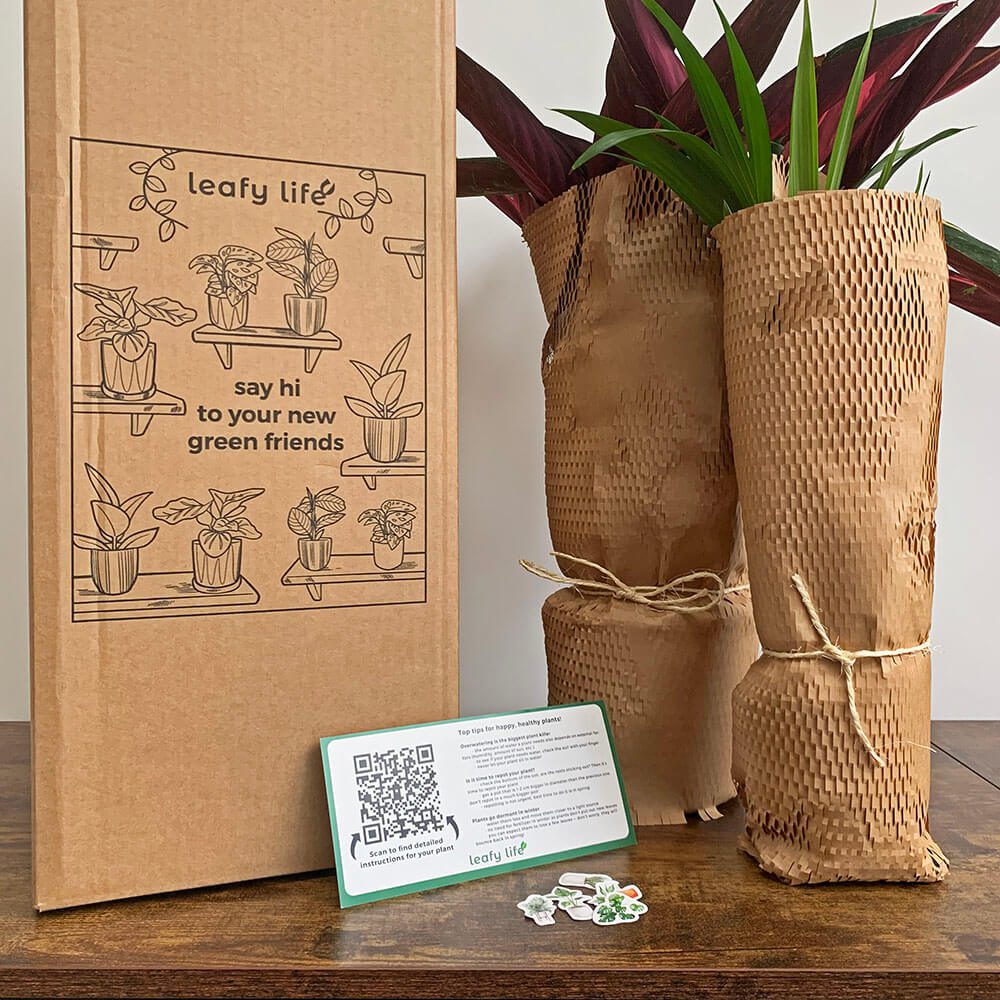 frequently asked questions
I'd like to give some plants as a gift. How can I do that?
During the checkout you can write a message for your recipient in the 'special notes' field. We will include a handwritten card with your message and place it in the box in a green envelope. There are never any receipts in the boxes as we do everything digitally.
Keep in mind that we will send confirmation and tracking emails to the email you enter during checkout. If you want the gift to be a surprise enter your own email and let your friend know when the package will be delivered.
If you are not sure what to get your friend you can also buy them a gift card and let them choose.
How do I know when it's time to water my plant?
We have care instructions for every plant - both short and more detailed for beginner plant parents. While we do give an indication how often you should water each plant, the absolute best way to make sure your plants stay healthy is to check the soil.
Stick a finger in the soil up to the knuckle, does the soil feel dry? Is there almost nothing sticking to your finger? Then it's likely time to water. Some plants can tolerate getting dry while some will get brown crispy edges if the soil gets to dry between waterings. Know your plants and always double check the soil. Don't water on a schedule.
How can I redeem my loyalty points for a reward?
Click on the rewards button in the bottom right corner with the gift icon and then click 'Redeem Points' and choose the reward. You will recieve via email a personalized coupon code that you must use with your next order in order to recieve the discount or the free goodies.
Do I need to repot the plant after I receive it?
Travelling can be stressful for the plant especially since it's moving from perfect greenhouse conditions to a new environment. Repotting may cause extra stress since the roots would then also need to adjust to a new space. It's better to give your plant some time to adjust to its new home (about 1-2 months) before repotting it. Only repot if the roots are really sticking out of the bottom of the pot.
what customers have to say